Local educators learn methods to teach clean air, alternative fuel concepts
Kelly Cannon
March 25, 2015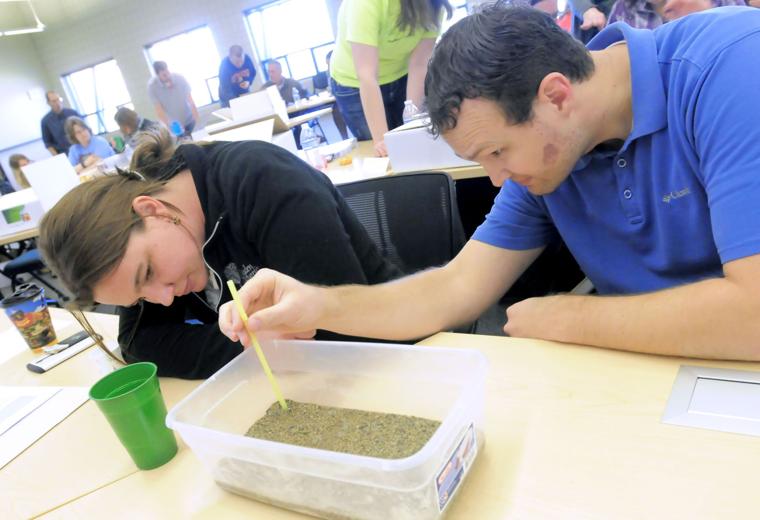 Exploring natural gas
Stefanie Zwygart, of the Ogden Nature Center, and Alan Larsen, of Preston Junior High School, learn about natural gas formations during a workshop that helped educators teach about clean air on Wednesday.
Over 40 Cache Valley educators met Wednesday at the Utah State University STE2M Center to learn how to better incorporate information about clean air and alternative fuels into their curriculum.
Hosted by the National Energy Foundation, teachers received instruction on how to teach these subjects and got a binder full of ideas and activities that are gauged for elementary, middle school or high school levels.
"We have electrolysis and natural gas formation and some fun activities that contribute to alternative fuels," said Jenell Brimhall, a facilitator for National Energy Foundation. "We also have a kit for each teacher so they have the supplies and materials to take these activities home and use in their classroom."
According to Ian Wright, business development manager for the National Energy Foundation, the seminar was brought about by a partnership between the foundation, USU, Washakie Renewable Energy and Utah Clean Cities. The foundation developed the curriculum and had it vetted both by professionals in the field and by educators familiar with the Utah Common Core.
All of the lessons are tied into not only the Utah Common Core but also contain several connections to science, technology, engineering and math, or STEM.
"The goal is to provide teachers with materials so that they can educate students about clean air and alternative transportation and biofuels," Wright said.
Annette Egan, a fifth-grade teacher at North Park Elementary, said that she came to the seminar because she was interested in helping her students understand what they need to do to be better citizens and stewards of natural resources. Egan also said that she found various ways that she can incorporate the activities into her lessons.
Chemistry teacher Kimberly Rasmussen from Mountain Crest High School said that she was attending the seminar because air quality is part of the chemistry curriculum, and she's getting an environmental science degree and wants more exposure in that area. She said that she enjoyed all of the activities.
"They're feasible. I can use them not only if I teach chemistry but also if I teach environmental science," Rasmussen said. "It's given us a lot of good ideas on what to use and how to use it in your classroom, and it's very cost effective as well."
Rasmussen also said that she felt that the provided curriculum fits well within the Common Core.
"I feel that with the Common Core, they want you to hit on certain concepts, but they also want students to think and have critical thinking skills," Rasmussen said. "The activities help the students with the concepts and the critical thinking skills."
---
kcannon@hjnews.com
© Copyright 2015, The Herald Journal, Logan, Utah