For the past 12 years, officials in Utah have dubbed September the start of idle free season, an annual reminder for residents to turn off their cars. On Monday, the tradition continued as Lt. Gov. Spencer Cox, along with other state and local leaders and the non-profit Utah Clean Cities, made this year's announcement at a press conference at the Capitol.
"It's so important that we recognize that this is not a partisan issue, that this is a health issue, it's an economic issue," Cox said. "This is good for everyone. Whatever it is you believe in, this should be part of that."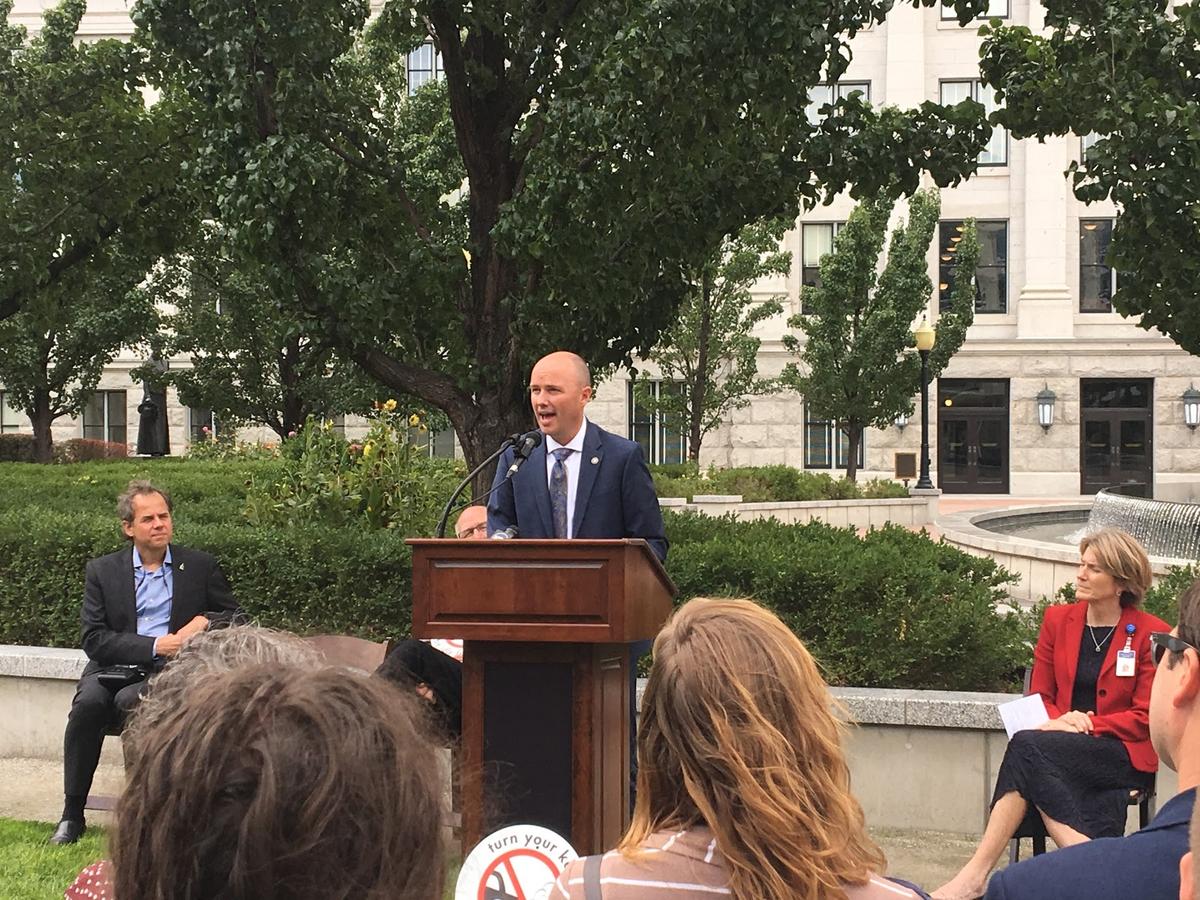 Utah Clean Cities helped launch the campaign after students and their parents raised concerns about cars huddled around drop-off and pick-up zones at elementary schools. Since then it's gone nationwide. States like California, New York, and Texas have all passed anti-idling laws.
It's a particular concern in Utah, which was ranked second to last in the nation for urban air quality, according to a U.S. News and World Report list published earlier this summer. But how big of an impact the campaign is making in reducing emissions remains unclear. Salt Lake City Sustainability Deputy Director Debbie Lyons says one reason for that is because the effects of idling are hard to single out.
"When we're dealing with air quality issues, it's a very complex situation," Lyons said. "There's a lot of chemistry that goes on and there are a lot of sources that we look at. And so to pinpoint one action from one source is really hard."
Officials say they focus on idling because of how easy it is for people to stop. It's something everyone can do.
Still, to further persuade people, there are laws in place. Idling is illegal in 10 Utah cities. The details vary, but most ban drivers from running their engines for more than one to two minutes and allow at least one warning before any punishment is doled out. There are also numerous exemptions in place. Police are free to idle, for example, as is anyone waiting in a car in extreme heat or cold.
Park City passed the first anti-idling ordinance in the state, with Salt Lake City following behind in 2011. As the rule stands now, drivers get three warnings before they're given a citation, which is similar to a parking ticket and enforced by parking compliance officers.
Since the ordinance was enacted, nine citations have been issued, along with 74 warnings.
Officials say the tickets aren't the point, but rather the efforts are geared towards awareness.
"This is not meant to be punitive," said State Rep. Suzanne Harrison (D-Draper), who co-chairs the bi-partisan Clean Air Caucus. "It really needs to be something that everyone is getting educated about [with respect to] their own contribution to air pollution."
Lyons is hopeful the outreach is working. She says that in her own experience, the efforts have at least made people more aware of their driving habits, even if it's not totally clear what the low number of citations and warnings says about the extent of idling overall. Whether that means drivers aren't idling very much or they simply aren't getting caught, Lyons thinks it's a good sign.
"It takes a lot to get that citation, so to me it looks like it's willful action," she said, especially since most warnings were for first-time offenders.
Lyons says that with environmental issues, often the biggest challenge is finding ways to get people to change their behaviors and, frankly, they don't have proof that is happening. She says that a lot more research would be needed to see if and how the campaign has influenced people.
One thing she has seen is that if you can make a personal connection to the issue, like improving air quality at your kids' school, chances are better it will move the needle.
https://utahcleancities.org/wp-content/uploads/2019/09/nasty_tailpipe_09-17-19_istock.jpg
1600
2400
Kelly Barrett
http://utahcleancities.org/wp-content/uploads/2017/04/UCC_logo_web.png
Kelly Barrett
2019-09-30 21:58:11
2019-09-30 21:58:11
Officials Announce Utah's 12th Idle Free Season, Hoping Drivers Will Think About Changing Habits