Read full brief below
Last updated: Thursday, February 11, 2021
---
Originally posted by USDOT Federal Highway Administration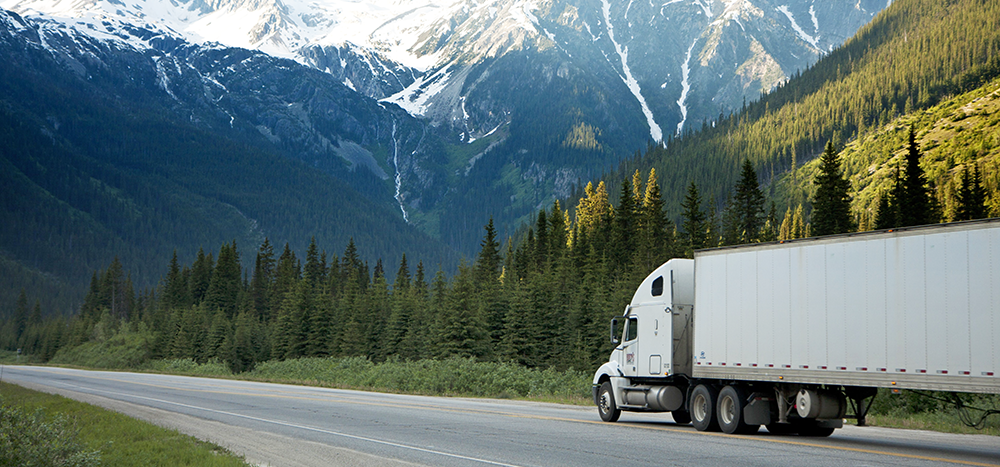 Rural Opportunities to Use Transportation for Economic Success (ROUTES) is an initiative to address disparities in rural transportation infrastructure by developing user-friendly tools and information, aggregating DOT resources, and providing technical assistance. The ROUTES Initiative aims to ensure rural transportation infrastructure's unique challenges are considered in order to meet priority transportation goals of safety, mobility, and economic competitiveness.
Read our newly released 
Rural EV Infrastructure Toolkit
, which was developed as part of the ROUTES Initiative to help rural communities plan and fund electric vehicle (EV) charging infrastructure.
The ROUTES Initiative is established to…
Engage Rural Communities through a series of events to better understand their transportation needs and priorities, and to collect essential data from stakeholders representing different communities, groups, workers, and industries to identify necessary transportation solutions.
Harmonize DOT Programs to implement rural policy by re-constituting the ROUTES Council to lead and coordinate Departmental activities to implement the Bipartisan Infrastructure Law and better align new and existing funding, financing, and technical assistance programs with the needs of rural and Tribal communities.
Utilize a Whole-of-Government Approach by partnering with other rural-focused federal agencies and regional commissions to expand DOT's presence in rural America, better promote DOT's resources to their customers, and capitalize on synergies between federal funding programs.
The Rural Transportation Network is Critical for Our Economy
Rural transportation networks are critically important for domestic production and export of agriculture, mining, and energy commodities, as well as the quality of life for all Americans.

Two-thirds of rail freight originates in rural areas, and nearly half of all truck vehicle-miles-traveled (VMT) occur on rural roads.  These industries require heavy trucks that create significantly more wear-and-tear on roadways.

Ninety percent of posted (limited weight) bridges are in rural areas and heavy trucks cannot cross posted bridges – to find a safe bridge, heavy trucks hauling in rural areas must traverse three-times the distance as in metro areas.
Rural roads account for a significant proportion of total lane miles in the United States, and they play a significant role in our nation's transportation system, safely moving people and goods to their destinations. However, rural areas face several transportation challenges relating to safety, usage, and infrastructure condition.
Sources: U.S. Department of Transportation, Federal Highway Administration, Office of Highway Information Management, Highway Statistics, table HM-60, available at http://www.fhwa.dot.gov/policyinformation/statistics.cfm; United States Census Bureau, American Community Survey (ACS), 5-Year Estimates, 2018.
While only 19% of the U.S. population lives in rural areas, 45% of all roadway fatalities and 34% of all public highway-rail grade crossing fatalities occur on rural roads, and the fatality rate on rural roads is 2 times higher than on urban roads.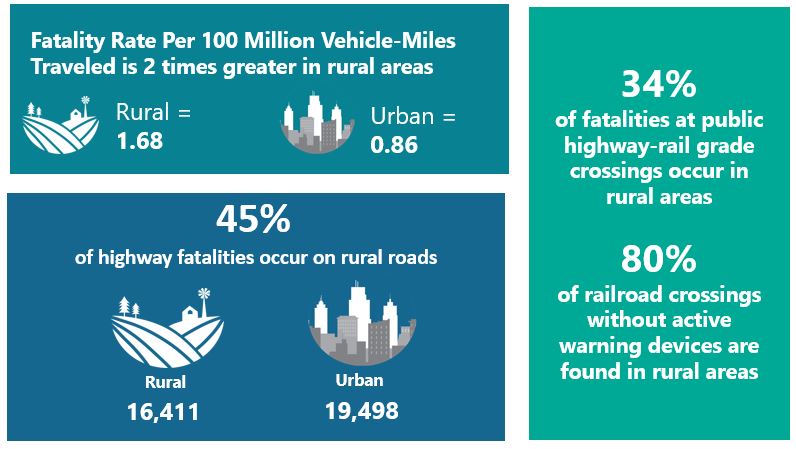 Sources: U.S. Department of Transportation, Federal Highway Administration, Annual Vehicle Distance Traveled in Miles and Related Data, 2017-2018; National Highway Traffic Safety Administration, Fatality Analysis Reporting System, 2018.
https://utahcleancities.org/wp-content/uploads/2022/02/fhwa-logo.jpeg
255
1026
Kelly Barrett
http://utahcleancities.org/wp-content/uploads/2017/04/UCC_logo_web.png
Kelly Barrett
2022-02-16 22:49:08
2022-02-16 22:49:08
Rural Opportunities to Use Transportation for Economic Success (ROUTES)