Posted on October 19, 2021
By Carter Williams with KSL Radio
SALT LAKE CITY — As a trailer holding a hydrogen-power generator remained open parked next to the steps of the Utah Capitol, an attendee of a Utah event highlighting the future of the alternative fuel sources peered in to see how it worked.
"This is impressive," he muttered, staring at one of the hydrogen storage devices inside the trailer.
The scene may have looked futuristic to some. The hydrogen-powered generator was hauled in by a truck powered by methane-captured natural gas and the zero-emission device was also being used to power an electric vehicle.
But the scene wasn't futuristic at all. It was very much in the present — and all three power sources are growing in Utah.
"The future of (advanced) fuels is here … those are all fuels that are here in Utah," said Scott Brandeberry, the CEO of Lancer Energy, a Utah-based company that focuses on turning hydrogen and methane into energy, referencing the three energy sources of the items parked outside of the building.
Tuesday's event — hosted by Lancer Energy and the Utah Clean Cities Coalition — showcased how Utah is making massive strides in hydrogen and other advanced fuel sources. Hydrogen, renewable natural gas (methane), and electric vehicles can all drastically improve Utah's air quality not just in the future but now, the event organizers said.
It brought in dozens of energy investors from all over the country to Utah so they could see firsthand how hydrogen and other advanced fuels can reshape the future of transportation and energy.
As Rep. Melissa Ballard, R-North Salt Lake, put it: "We're going to be the hydrogen hub for the crossroads of the West."
"We have the opportunity at utility-scale to produce and distribute from many applications and we have Utah manufacturers who are making these applications for Utahns and also to be distributed across the country," she continued.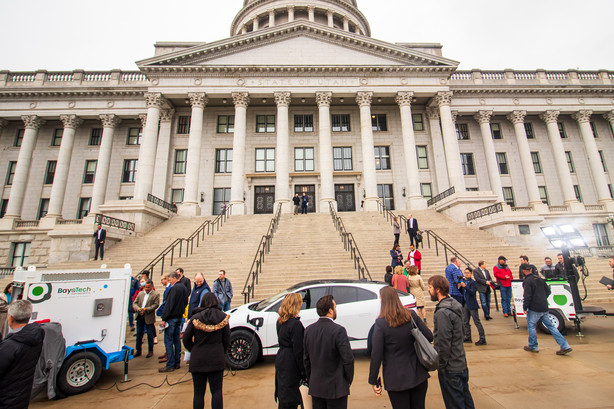 However, hydrogen was the star of the show.
All in on hydrogen
Tammie Bostick, the executive director for Utah Clean Cities Coalition, said the Beehive State is now among the leader of the nation in hydrogen fuel deployment. There are a handful of current and future projects across the state aimed at producing, storing and utilizing hydrogen.
So how did Utah get here and why?
First, hydrogen has actually been classified as an alternative fuel for nearly three decades now. It was included in that category under the Energy Policy Act of 1992, according to the U.S. Department of Energy. Bostick said hydrogen wasn't exactly a forgotten alternative fuel source all these years but it was certainly underutilized in the energy sector.
"I think we were so heavily dependent on two fuels, gas and diesel, and all of our national interests were invested in that. So hydrogen was just essentially part of the drilling process but wasted or captured and used in a small way," she said. "But it is a very strong and powerful fuel."
The Department of Energy points out that a hydrogen fuel cell paired with an electric motor is "two to three times more efficient" than a traditional internal combustion engine that runs on gasoline. It also only emits water vapor and warm air, so it is considered a zero-emission source.
That captured the attention of Utah lawmakers in recent years, especially members of the bipartisan Utah Clean Air Caucus, as they searched for solutions on how to reduce carbon emissions and improve the state's air quality. Per a report from the University of Utah's Kem C. Gardner Policy Institute published last year, Utah emitted about 59 tons of carbon dioxide in 2016 and averages about 19.3 metric tons per person annually. Researchers say vehicles account for roughly half of the pollution produced.
There have been a handful of bills proposed and even passed in the Utah Legislature regarding hydrogen in recent years, with a push to increase production and fueling stations in the state. Ballard said Utah will open its first hydrogen fueling station early next year; there are currently just three states that currently have stations.
The $150 million public infrastructure district that the Utah Inland Port Authority passed last week also includes funding for a future hydrogen refueling station. Jack Hedge, the executive director of the Utah Inland Port Authority, spoke briefly on the Utah Inland Port refueling station project. The plan calls for it to include renewable natural gas and electric vehicle stations, in addition to hydrogen.
Hedge referred to trucks as the "lifeblood of the economy" because 90% of all goods are transported by them; however, he pointed out that diesel-fueled trucks produce a heavy amount of carbon emissions among the vehicles on Utah roads. He said it's why the port authority sought funding for alternative fuels.
In a somewhat similar context, Ballard said there's a bill in the works for the 2022 legislative session that will "strongly encourage" Utah freight switchers — trains that move goods around railyards — to convert to zero-emission sources beginning in 2025. Some companies are already looking at hydrogen as an alternative for freight trains.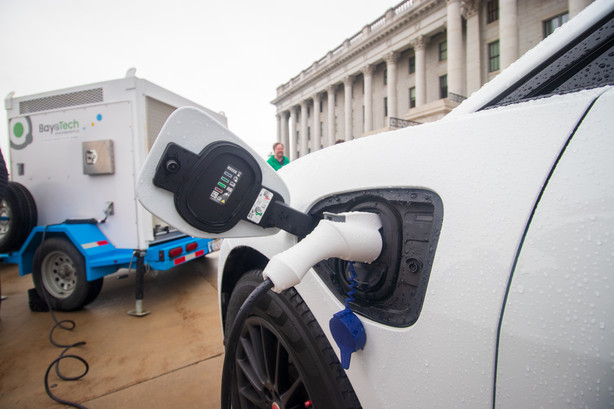 In addition to freight, Bostick said she's thrilled about a future plant in Kane County that will capture methane from wastewater and turn it into hydrogen. The byproduct will then be converted into electricity that will run electric vehicle shuttles at the east entrance of Zion National Park.
Kim Frost, the executive director for Utah Clean Air Partnership, otherwise known as UCAIR, said it's "exciting" to learn about the potential of hydrogen. That's because she believes it can aid the key reason that got Utah interested in the first place.
"Using hydrogen along with other alternative fuel vehicles, such as electric and hybrid, for transportation, has the potential to be incredibly beneficial to improving our air here in Utah," she said.
A 'promising new future'
Hydrogen has also captured the attention of national leaders for the same reason Utah leaders zeroed in on it. President Joe Biden earlier this year set a target for the U.S. to cut its greenhouse gas pollution in half by 2030 and hydrogen was listed as one of the ways to do it.
"The United States can address carbon pollution from industrial processes by supporting carbon capture as well as new sources of hydrogen — produced from renewable energy, nuclear energy, or waste — to power industrial facilities," White House officials wrote in April. "The government can use its procurement power to support early markets for these very low- and zero-carbon industrial goods."
Producers of hydrogen energy feel also confident about its future. Mauricio Vargas, the CEO of New Mexico-based energy company Bayotech, which manufactures the hydrogen-powered generator that was on display Tuesday and will oversee that future hydrogen refueling station at the Inland Port, said the company's hydrogen technology is already "at parity" with diesel in cost.
Hydrogen fuel cells, Bostick added, aren't just a possible solution to emissions challenges; they can also help overcome barriers to other alternative sources. Case in point, it can be paired with solar electricity to help run battery cells at night.
All of these are helping the industry grow. Bayotech, for example, received an investment of up to $157 million earlier this year, allowing it to drastically upscale its business. In addition to Lancer and Bayotech, Big Navajo Energy, Dominion Energy, Renewable Innovations and Stadler Rail are all companies with ties in Utah to produce hydrogen or build products with it, according to Utah Clean Cities.
For Vargas, his business's growth is proof that energy innovation can be both impactful and lucrative.
"Clean energy products like this provide tens of millions of dollars in direct investment and create high-value jobs," he said. "It offers opportunities for a state to pivot to a promising new future."
https://utahcleancities.org/wp-content/uploads/2021/10/Screen-Shot-2021-10-20-at-10.13.03-AM.png
628
924
Kelly Barrett
https://utahcleancities.org/wp-content/uploads/2017/04/UCC_logo_web.png
Kelly Barrett
2021-10-20 16:15:20
2021-10-20 16:18:51
Why Utah aims to be the 'hydrogen hub for the crossroads of the West'