By Lisa Riley Roche@DNewsPolitics, Deseret News | Posted – Nov 4, 2019, 5:15pm MST
SALT LAKE CITY — Officials marked the 11th anniversary of November being declared Alternative Fuel Awareness Month in Utah by highlighting federally funded projects, including for an electric vehicle corridor across the Intermountain West."As you can tell, we've done a lot. And there continues to be more we can do," Laura Nelson, Gov. Gary Herbert's energy adviser, said during a news conference in the Capitol rotunda Monday after reading this year's declaration from the governor.The Intermountain West Electric Vehicle Corridor, which goes through Utah, Arizona, Colorado, Idaho, Montana, Nevada, New Mexico and Wyoming, was created through the signing of memorandum of understanding by the governors of those states in 2017.

Herbert described the corridor in his declaration as providing diverse fueling options along the "I-15 corridor and other designated roadways, thus connecting Utah's cities, towns, national parks, monuments, recreation areas and scenic byways with neighboring states and regional network."

The governor said in a statement that "alternative fuels continue to play a critical role in Utah's economic and environmental success" and praised efforts "to provide greater transportation options to Utahns while also achieving greater air quality, economic opportunity and energy security."

There are 941 stations in Utah that offer alternative fuels, including compressed, liquified and renewable natural gas and electric vehicle charging, many located along I-15, I-80 and I-70, according to the Governor's Office of Energy Development.

Tammie Bostick, executive director of the nonprofit Utah Clean Cities, initially said some $260,000 from the U.S. Department of Energy will go toward new electric vehicle charging stations along the corridor over three years, but later updated that number to $670,000.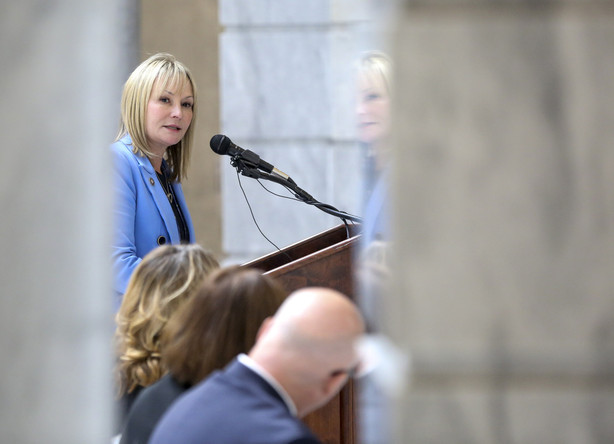 She said the money is part of $1.45 million in federal grants that will bring in about $3 million to the state when matched with private and public funds and in-kind contributions.
The federal funds will also help pay for a pair of electric shuttles in Zion National Park that will travel through the steep and narrow Mount Carmel tunnel, Bostick said, expected to cost about $300,000 each. She said ideally they will be on the road within a year.
"All the national parks across the nation are watching us roll this project out," Bostick said. "It's very exciting,"
Also unveiled Monday was a report on how alternative fuel vehicles strengthen state planning for emergencies, from the governor's energy development office, Utah Clean Cities and the National Association of State Energy Officials.
"We are proud to become one of the first models nationally for strategic energy emergency planning across the transportation sector by collaborating on this critical report and other educational and informative tools," Nelson said, including tracking the availability of alternative fuels.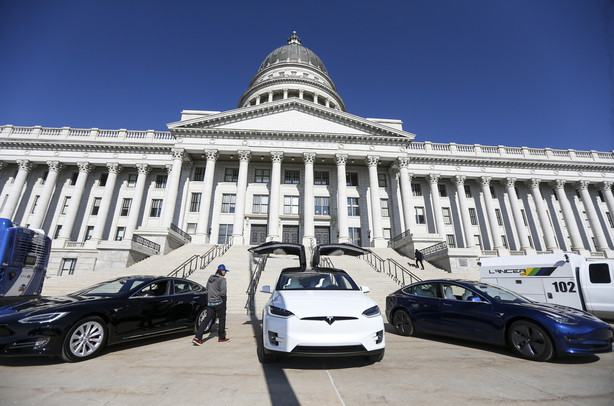 Currently there are 46 vehicle fleets that use alternative fuels in Utah, with more than 6,400 cars and trucks that operate on natural gas, propane, biodiesel, ethanol, electricity or hybrid fuels, the governor's energy development office said.
Bostick called the report "a prime example of the Utah way of working together to address complex problems such as emergency response during severe weather events and other climate-driven episodes like fires, floods, drought and seismic activity."
The Utah Transit Authority was acknowledged for operating alternative-fuel buses, including three that are solely electric and 54 that are electric hybrids, along with municipalities and private companies that are turning to alternative fuels.
At the base of the Capitol steps, several examples of alternative-fuel vehicles were on display including an electric UTA bus, a duel-fuel compressed natural gas service truck from Lancer Auto Group and three different models of Tesla cars.
https://utahcleancities.org/wp-content/uploads/2019/11/27631898.jpg
732
1024
Kelly Barrett
http://utahcleancities.org/wp-content/uploads/2017/04/UCC_logo_web.png
Kelly Barrett
2019-11-07 16:46:34
2019-11-07 16:48:32
Utah touts advances in finding alternative fuel solutions